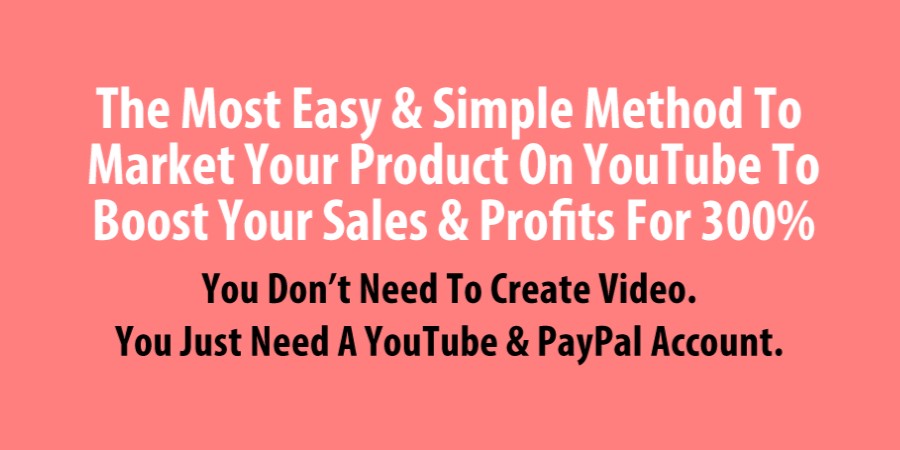 Are you still applying outdated methods to market your products? It's time for a change if you want to earn more profits...
People crave new things, something that will excite them and motivate them to take action. Therefore, you need to constantly apply multiple methods to market your products and services that meet this demand.
Out of all the marketing methods out there, video marketing is deemed as the most effective and profitable medium to market your product.

This is because people love watching something that is in motion, capturing your audience's attention rather than showing them only plain boring words.
Let's say you have a sales video to promote your product, where should you upload the video to? The answer is simple, upload to a platform where many people have gathered.

And the platform I am talking about is YouTube!
Okay So Why YouTube?
OK. First of all. Why YouTube? Why not Daily Motion, Current TV, TED, or even Big Think?
Profits come from where the people are. The more people there are, the more profits you will be making. This is why you must choose YouTube as your most ideal platform to market your products and services.
Take a look of the following statistic, and you will know why YouTube is the best for every internet marketer like you...
1 billion people use YouTube daily

4 billion viewings every day

300 videos are being uploaded every day

1 billion mobile video views every day

91% of U.S. big businesses use YouTube


85% online are regular YouTube visitors
I DON'T KNOW HOW TO CREATE VIDEOS
It's okay if you don't know how to create a video, because YOU DON'T NEED TO!...

You don't need to possess video shooting skills
You don't need a degree in graphic design or videography
You don't have to buy expensive shooting tools (DSLR, camera etc)
You don't have to record video
You don't have to stand in front of the camera
You don't have to spend days and nights just to create one video

Even if you're a novice and totally new to video marketing, you will be able to do it too!
Just create a YouTube account and get your PayPal account verified, apply the simple methods that I teach you in the course...

Then wait for the profits to hit your PayPal account! It's as simple as that!